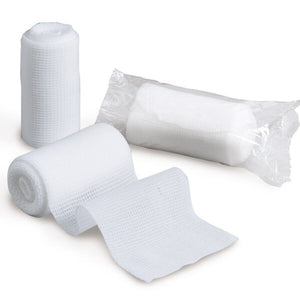 Impact Santé - Non-Sterile Gauze Bandage Roll (4 in) [Pack of 10]
MEDICAL GAUZE: It's always better to be proactive than reactive and with our medical grade gauze rolls you'll always be prepared. These are the only ones that come as a set and are perfect for use as a stretchy gauze bandage to provide light compression and securely cover any injury.

Versatile Stretch Gauze Kit: Our conforming gauze rolls are perfect for covering all kinds of wounds and injuries. They provide mild compression at the injury site while firmly holding the wound area.

COMFORTABLE & HIGHLY ABSORBENT: Made from soft, stretchy fabric, our non-sterile gauzes are durable, stretchy and highly absorbent. Additionally, they are extremely breathable, allowing your skin to breathe while letting your injury heal faster. They are in fact specially designed not to slip during use.

INDIVIDUALLY WRAPPED - Latex Free: When it comes to your health and well-being, we know it's no time to cut corners. That's why these stretch gauze rolls are not made of natural rubber latex, and are each individually wrapped, designed with a unique weave construction and finished edges to prevent fraying and lint.

100% RISK FREE PURCHASE: Try our latex-free stretch medical gauze multipack and if you are not positively satisfied, let us know and we will make the right choice.
---
We also recommend you